NFL Project "Making Your Mark"
The Southeast Outdoors Solutions team was honored to partner with both the Warren Boys and Girls Club of Atlanta and the 2018 Walter Payton NFL Man of the Year nominees to build a beautiful playground.
Walter Payton NFL Man of the Year Award
Each year, 32 NFL players are chosen by their respective team for the prestigious Walter Payton NFL Man of the Year Award. This award recognizes an NFL player for his "outstanding community service activities off the field, as well as excellence on the field." 
The Walter Payton NFL Man of the Year Award was first established in 1970 under a different name, but it was renamed after a player who was all about giving back to his community, the late Chicago Bears running back, Walter Payton. You can find a list of past winners here.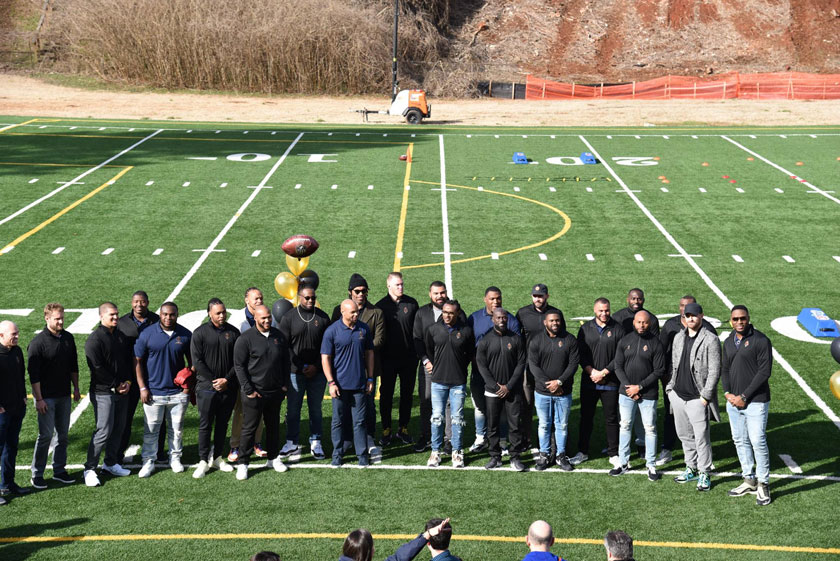 2018 Walter Payton NFL Man of the Year Nominees
The 2018 Walter Payton NFL Man of the Year nominees consisted of 32 football players that were each nominated by their respective teams. All of these wonderful men worked together to help the Atlanta community. The list of nominees for the 2018 Walter Payton NFL Man of the Year Award include:  
Arizona Cardinals-Antoine Bethea
Atlanta Falcons-Grady Jarrett
Baltimore Ravens-Brandon Carr
Buffalo Bills-Lorenzo Alexander
Carolina Panthers-Julius Peppers
Chicago Bears-Trey Burton
Cleveland Browns-Christian Kirksey
Cincinnati Bengals-Carlos Dunlap
Dallas Cowboys-Dak Prescott
Denver Broncos-Von Miller
Detroit Lions-Matthew Stafford
Green Bay Packers-Kenny Clark
Houston Texans-Whitney Mercilus
Indianapolis Colts-Jabaal Sheard
Jacksonville Jaguars-Blake Bortles
Kansas City Chiefs-Dustin Colquitt
Los Angeles Chargers-Corey Liuget
Miami Dolphins-Kenny Stills
Minnesota Vikings-Kyle Rudolph
New Orleans Saints-Mark Ingram
New York Giants-Michael Thomas
New York Jets-Kelvin Beachum
Oakland Raiders-Marshawn Lynch
Philadelphia Eagles-Chris Long
Pittsburgh Steelers-Cameron Heyward
San Francisco 49ers-Robbie Gould
Seattle Seahawks-KJ Wright
Tampa Bay Buccaneers-Gerald McCoy
Tennessee Titans-Jurrell Casey
The NFL's "Making Your Mark" Event
The 2018 Walter Payton NFL Man of the Year nominees participated in a huge community event geared to give back to the city of Atlanta by working with the Warren Boys & Girls Club. They worked with more than 100 Atlanta kids and teenagers on several beautification projects, including:
Planting bushes and moving dirt
Planting trees
Building a new playground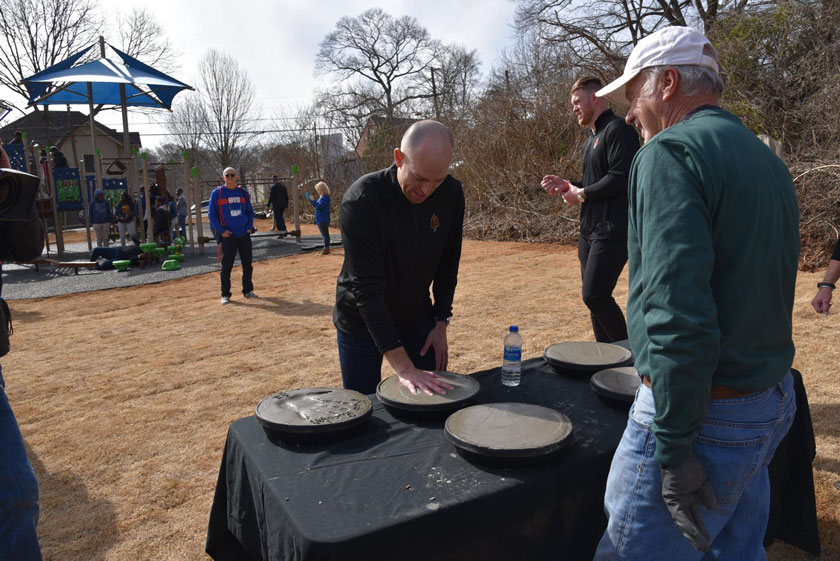 The Playground
Speaking of the playground, we were so excited when the Boys & Girls Club asked us to remove the previous dilapidated playground and install the surface foundation and structural bones of the new playground.
We used poured in place rubber because it's one of our favorite surface foundations due to how safe it is for kiddos to run and jump on as well as the fact that it needs very little maintenance. To learn more about our playground surface foundation options, check out our post: A Guide to Playground Surfacing Equipment.
Basically, we installed the surface foundation and the structural bones of the playground, and the players and kiddos did the rest! Each player even put their handprints in cobblestone steps to create a path that leads to a special bench dedicated to the actual 2018 Walter Payton NFL Man of the Year Award winner, Philadelphia Eagles player, Chris Long.
It was such a fun and rewarding day for the Southeast Outdoors Solutions team!
Build Your Playground Today!
We provide playground equipment, shade structures, surfacing, old equipment removal and repair, new equipment design, and installation of playgrounds for customers in AL,GA, MS, NC, SC, and TN. Build It today or give us a call at (770) 709-5605 to discuss your playground project.