A Guide To Playground Surfacing Equipment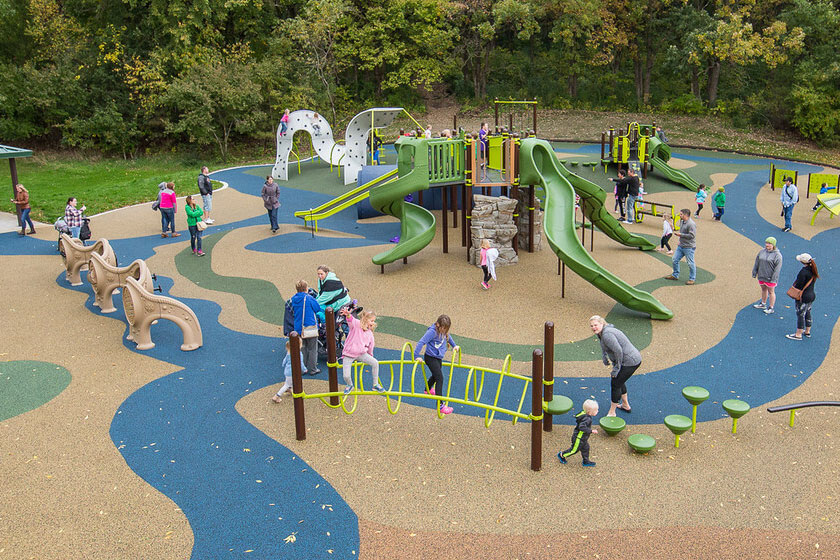 When planning a playground, you have a lot of decisions to make. One of the most important decisions is the type of foundation or surfacing you will need to install.
And, when it comes to deciding on the type of surfacing you want to use for your outdoor space, you need to take some factors into consideration, including:
Accessibility
Safety
Age of users
Maintenance
Installation cost
Accessibility
It's really important that playgrounds are ADA accessible so people with special needs can safely move about them.
According to the U.S. Access Board's Guide to ADA Accessibility Standards, "Inaccessible surfaces can pose barriers for children with disabilities who may use canes, crutches, walkers or wheelchairs from ambulating through the play area. Pushing a wheelchair over loose gravel or sand requires tremendous physical effort. When so much effort is exerted, little to no energy is left for play."
Luckily, there are some types of playground surfaces that are ADA approved, like poured in place rubber, also known as pour and play rubber. Other surfaces like shredded rubber or mulch aren't a great option for ADA accessibility because they are not wheelchair- or stroller-friendly. And, they are unsteady, so it's also hard to walk on them with a cane.
Safety
It's also important to keep the safety of your intended users in mind when debating which kind of foundation you want for your playground. For instance, if you are installing a playground for younger kiddos, like for a preschool, you will want to go with a soft type of surface, like pour and play rubber or a surface that doesn't have small pieces kids can throw at each other, like pea gravel.
Age of Users
Piggybacking off of safety, we just want to reiterate that soft surfaces, like poured in place rubber or rubber tiles are safest for younger kids. These surfaces are also great for running and jumping.
Maintenance
Some playground surface materials require regular maintenance, especially rubber mulch, which often needs more added to the playground surface each year. And, some playground surfaces, like pour and play rubber, require minimal maintenance.
Installation Costs
Installation costs can definitely be a deciding factor on a surface type for those that want to install a playground. Some are definitely more expensive than others, but sometimes a more expensive surface will save you money over time.
For instance, poured in place rubber and artificial turf are both more expensive than engineered wood fiber, but the latter needs lots of maintenance that includes inspection as well as addition of material to maintain safety over time. The same goes for shredded rubber mulch. It has a lower install cost, but it also needs regular maintenance. And, in order to keep the surface safe for kids, you will definitely need to add more mulch over time, which will add up.
So, higher installation costs often balance out when it comes to product lifespan and maintenance costs.
Types of Playground Surfacing Southeast Outdoors Solutions Offers
We offer several different types of playground surfacing. Here are the different playground surfaces we can install for you as well as some pros and cons of each:
Poured in place Rubber
Pros:
Lots of options for colors and designs
Uniform, no-trip surface
Inhibits microbial growth
Long lasting
Minimal maintenance
Cons:
Rubber Tiles
Pros:
Very safe for kids
Low maintenance
Moderate install costs
Cons:
Subject to warping due to temperature changes, which ends up causing safety issues
Shorter lifespan that other surfaces
Engineered Wood Fiber
Pros:
Low cost to install
Offers moderate safety
Cons:
Needs regular maintenance
Must inspect on a regular basis
Will need to add more material to maintain safety over time
Artificial Turf
Pros:
Long lifespan
Low maintenance
Low water needs
No mowing
Unaffected by extreme weather
Cons:
Higher installation costs
Turf disintegrates over time
Rock or Gravel
Pros:
Lots of colors and design options
Uniform, no-trip surface
Inhibits microbial growth
Long lasting
Minimal maintenance
Cons:
Shredded Rubber
Pros:
Multiple colors
Lower install costs
Lasts longer than wood
Less microbial activity
Cons:
Needs regular maintenance, inspection, and addition of material to maintain safety over time
A Note About Sand
We know that there are a lot of playgrounds out there that have a sand surface. However, that isn't something we offer at Southeast Outdoors Solutions. There are several regulations for using sand as a playground surface. It has to be a certain number of inches tall and deep to protect kids from falling. Also sand surfaces don't meet the Americans with Disabilities Act accessibility standards.
We Have Your Playground Surface Needs Covered!
We happily provide playground equipment, shade structures, as well as surfacing services in AL,GA, MS, NC, SC, and TN.​ We also provide removal, repair, design, and installation services of playground equipment. Check out the different playground surfaces we offer. Or, just Build It!