Create Fun and Safe Winter Playground Environments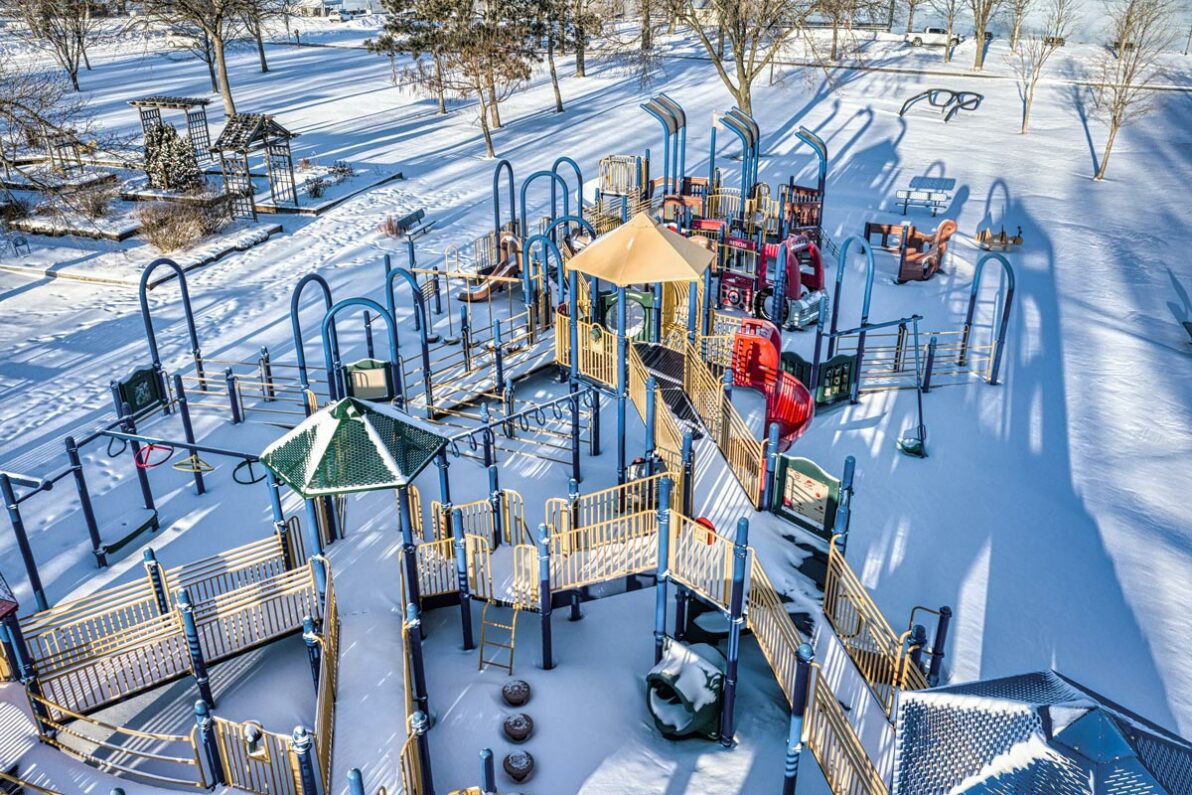 Do you feel it yet, cabin fever? We've made it through the shortest day of the year, but we still have a few more months until Spring brings us sunny, warm days. Those who want to adventure into the cold may struggle to find fun and safe activities for the family. In fact, you don't have to wander far to find a great opportunity for Winter play! Whether you have a play structure at your business, school or home, it's just as open in Winter as it is in Summer. Here are some tips for making the most of your outdoor time this frosty season:
Make it Safe: Cold, wintry conditions present their own challenges for safety while playing outdoors. Making the proper preparations ensures everyone has fun without the risk of injury.
Check your equipment before the cold really sets in for the season. It's easier to see any issues on the structure before the snow starts flying.
Once the weather arrives, check the equipment for snow and ice. Snow you can brush off easily, and you can chip away ice to prevent slipping.
Consider dressing in many layers to prevent cold from getting to anyone playing. Avoid drapey clothing such as scarves which can get caught in slides or railings on the structure.
Once you're all ready for fun, remember to always supervise children at play.
Make it Fun: To make sure everyone enjoys their time, just like a Summer outing, it's best to have a few games and activities in mind to keep everyone engaged.
You can make an impressive snow fort using the play structure as the bare design. Pack snow against the base and build up the walls to create a cozy, frozen space!
Practice your aim by throwing snowballs at targets different distances from the play structure.
Pile soft, powdery snow at the bottom of the slide for a soft, pillowy landing.
Make the smoothest snowballs you can and see whose snowball can make it down the slide the quickest.
Create snow castles using the same toys you take to the beach in the summer.
Make it Special: Celebrate the cold as a Winter Wonderland and kids will be more excited about this new and wonderful experience.
Add winter flair to your playground the same way you would to your home!
Build a snowman with the scarf and all to tell people the playground is open.
String lights through the canopy, above where little hands might find them.
Place a small Christmas tree in the structure so the children can play house.
While snow provides a lovely blank canvas, sometimes it's not easy to figure out how to make it fun, safe, and engaging.
Southeast Outdoors Solutions makes structures that withstand the stresses of weather while also providing inviting designs that children will love all year long. Like moths to a flame, children are drawn to climbing, sliding, and hanging and they will weather any weather for the opportunity to play. Learn more from our team about the design structures that can fit in your space: Call Us Today! (770) 709-5605