Inspiring Themed Playground Designs for All Ages
Parents and communities appreciate kid-friendly areas they can enjoy as a family and an educational element is an added bonus. That isn't to say you need elaborate math equations written across the jungle gym! Sometimes an overarching theme will do the trick. Themed environments help children make connections and build context for whatever theme is represented.
However much space you have, there's an opportunity for a playground that will delight children and engage their minds. From small areas at the entrance to your business to large playgrounds dedicated to play with many structures, a theme can help tie everything together and provide a fun environment for kids to play and adults to watch. While young children's brains form new synapses and create new connections as they learn, themes help them put together a larger picture of the world and their interaction with it.
So, what does this look like?
A Transportation Theme lends itself to many whimsical versions of things children know. Bike pathways look like road tops with lane markings. They are lined with gas stations, post offices and storefront play structures. These are places they encounter with their families and will be familiar to them already. Children can play on stationary vehicles, bouncing vehicles and infinity cycles to stay active and engage with each other. In this miniature town, children can see a reflection of the big world they experience every day!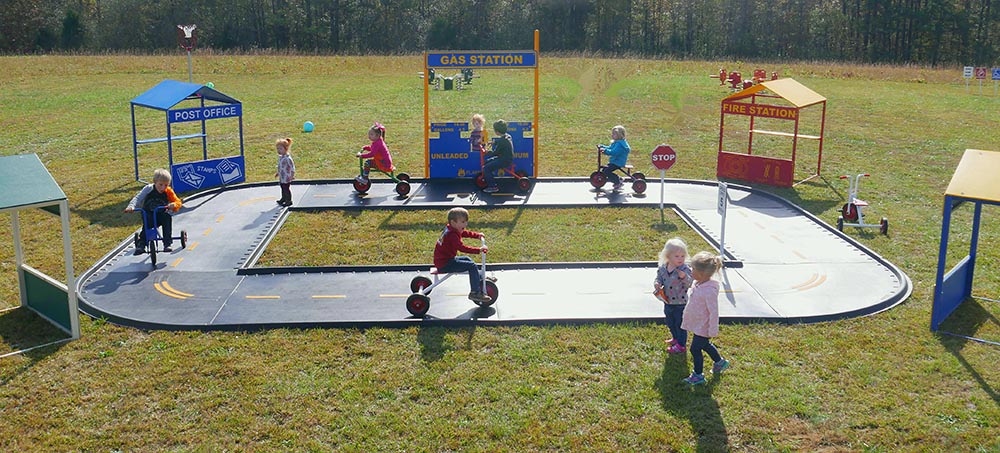 Businesses that aren't necessarily geared towards children can benefit from the addition of a playground, you can even match the theme. On the way to a baseball game, children can be greeted by a themed play area to help them engage with the game and all its aspects. See page 11 of the SRP Catalog here for photos of what this experience looks like. Children encounter the same things they will see inside the stadium, even concession stands.
Regional themes will help children understand their corner of the world. Ocean Play is ideal for beach areas with fish images, aquatic play structures and essential shaded areas where people can rest out of the sun. The Wild Wild West playground features a sheriff station, jail and general store. Even more options include Barn, Surf and Pirate themes. With a little creativity, a playground can be designed from any theme to help children engage with the world around them.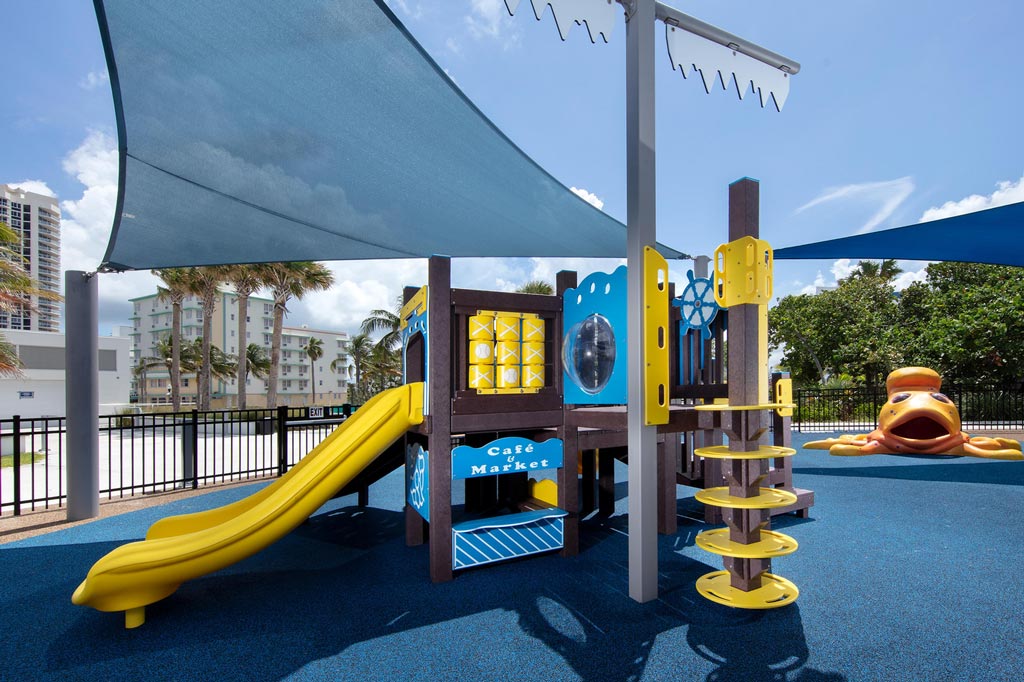 From young toddlers to young adults, children get excited about play areas and adults appreciate the addition of kid-friendly elements to their community. The playground can be an attraction in and of itself or attached to a school, church or business. Once you see how a playground can come to be, it's easy to see the possibility for one everywhere!
If you have a theme in mind, or are still searching, Southeast Outdoors Solutions can help you explore different structures and elements to add to your playground. We've worked with hundreds of clients in the Southeast and the results and reviews speak for themselves. The playgrounds see engagement from the community and become well-loved overnight. Elevating a playground with an overarching theme helps children connect to grown-up ideas and situations and are an instant favorite. 
When you are ready to begin a themed playground project in your community, reach out to our team to answer your questions and make your plan a reality!